Vadim Kolpakov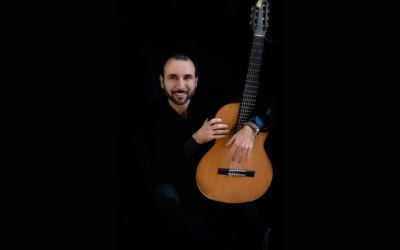 Vadim Kolpakov is one of the most prominent and renowned Romani (Gypsy) 7-string guitarists in the world, as well as vocalist, dancer and composer. He comes from a well-known Kolpakov music dynasty that has three generations of virtuoso guitarists. Vadim specializes in Gypsy music from Europe with the fusion of Jazz, Pop, Flamenco, Latin and other World Music.  Vadim is an artistic director of Via Romen company, he runs several projects with various musicians, singers and dancers, such as Zingaresca Ensemble and VS Guitar Duo. He performs at concerts, festivals, private and corporate events, and is also known as a great guitar teacher and teaches classes online and in person. Several times Vadim collaborated and toured worldwide with pop-icon Madonna and famous band Gogol Bordello. As part of VIA Romen band, Vadim toured with established Jewish singer, Svetlana Portnyansky in the U.S. and Israel, and recorded CD "Triple Delight". They had many shows at the Dollywood amusement park in Tennesee and Silver Dollar City in Missouri.  Vadim and VIA Romen collaborated with Balalaika Orchestra of Atlanta and Musical Connections company in Texas, and traveled to Singapore for performances. 
Since 2004 as part of Zingaresca Ensemble (co-founded with Dr. Oleg Timofeyev), Vadim performs in numerous universities, colleges and schools in the US, and at annual IARGUS guitar festival in Iowa.  Vadim is a recording artist and released many CD albums which can be found on his website and other online platforms. Vadim based in Charlotte, North Carolina, where he produced the unique "Gypsy Soul" show together with the Blumenthal Performing Arts Center. He often can be seen performing at the Tosco Music Party, local festivals, museums, restaurants and other venues.
At the CIAF, Vadim will present Spanish - Rumba Flamenco and Gypsy music from different countries, joined by several established musicians, Karish and Brenda Nova, both are versatile singers, and Marina Shanefelter (dancer), among them featuring young and talented musician and dancer, Grisha Kolpakov (percussion). 
Upcoming Events