Rosa Diaz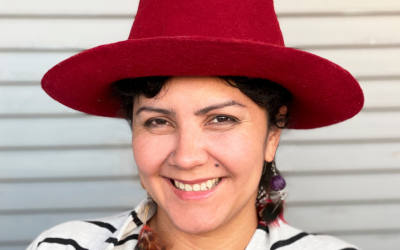 "I belong to nature, my roots, and my art. A magical canvas where stories are revealed to promote awareness, hope, and social change, in a creative path to healing, rebirth, and bloom in the different colors of happiness and inspire others to take a closer look at the world around us".

Rosa Diaz is an artist-entrepreneur in Charlotte, NC. Her love of nature and the diversity of cultures is why she really enjoys sharing art and being a bridge between communities and cultures. She uses brightly colored, distorted creatures mixed with symbols and abstract forms in a surrealistic style. She believes that art is a powerful tool that can change the world by telling stories that promote happiness, freedom, and hope.
Artist's Statement: Through this project, the artist aims to honor Native American cultures and dreams.
"My canvas is like a large dreamcatcher, catching and depicting all the "good dreams" of participants." Her project "Dreamcatcher" is an interactive art and a meditative walking labyrinth and through this outdoor experience, the audience will be able to meditate and connect with nature as they walk through the labyrinth path to discover "the bed", or the root, of where our dreams begin.