Rebecca Lipps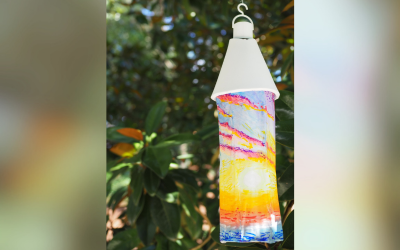 Rebecca Lipps is a multifaceted artist and educator cultivating immersive experiences for the public eye. She enjoys pushing the boundaries of technology and art making to invent a new form of expression. Rebecca's works are a combination of her multiple disciplines of painting, sculpting, performance, and projection mapping. Her painting background developed from her studies Xavier University where she received her Bachelor of Arts. She also received a Master of Fine Arts from Winthrop University, where she concentrated on video installation. It is also important to her to impact her community by making public art and involving herself in arts organizations around Charlotte. She is currently the chair of the Talking Walls Art Festival, a 2023 ArtPop artist, a TAC founder, a CAL member, and a YAMS member. Rebecca is also a proud educator that currently teaches art in Fort Mill School District and she freelances her own painting classes.
100 Tiny Thing "Sunset Lantern"
The rising and falling of the sun is an experience of observational wonder. I would like to highlight the vastness of the sky above in a smaller cylindrical setting. One of the most wonderous things about a sunset is the light and colors that form in the sky. I will highlight this beauty by making a small cylindrical lantern with a sunset painting on the outer surface. This Sunset Lantern is an interactive tiny thing that can be lit up with a small LED light in in the center. This creates a different view of the work during the day versus at night. I hope that this tiny thing can bring the vastness our beautiful sky into a smaller unique light form.