Nicole Driscoll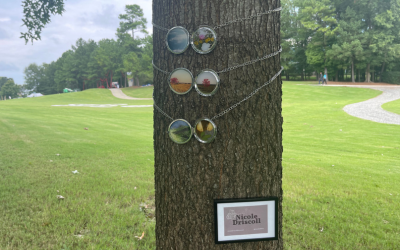 Nicole Driscoll is a filmmaker and photographer based in Charlotte, North Carolina. Her projects have been included in galleries and festivals such as The Light Factory, The Curated Fridge, Goodyear Arts, and the Click Photo Festival. In 2014, she developed Films on Tap, a film festival that pairs local short films and locally brewed beer. Through ArtPop Street Gallery, Driscoll's photograph, "Hands in the Sky," has been selected for prominent display on media spaces and billboards throughout the Charlotte area for the entire duration of 2023, including a billboard in New York City. She currently works as a teaching artist at Studio 345, an after-school program for at-risk youth, and as a freelancer in the greater Charlotte community.
100 Tiny Thing "Compact Lockets"
I have envisioned a captivating art project where I create tree/pole lockets that serve as unique vessels for displaying my photography. Each individual locket will be meticulously crafted using a compact mirror case and a weather-safe thin chain. The essence of this project lies in the interactive experience it offers to viewers, as they are encouraged to engage with the piece by opening the locket to reveal a series of different images.
To enhance the visual impact and storytelling potential, I intend to create three lockets, each housing a diptych composition within its compact confines. The diptychs will consist of two complementary images that harmonize and juxtapose, creating an intriguing interplay of themes and emotions within the limited space of the locket. By presenting the diptychs in this manner, I aim to evoke a sense of discovery and exploration for those who engage with the artwork.
In addition to the photographic elements, I plan to adorn both the interior and exterior of the lockets with carefully chosen decorative elements inspired by the aesthetics of the 16th century. These embellishments will add a touch of historical charm and serve to create an immersive experience for the viewer. Furthermore, I intend to incorporate dried flowers and small notes within the lockets, symbolizing the preservation of nature's beauty and the hidden messages that lie within.
Through this art project, I aim to invite viewers to explore the fusion of art, nature, and personal narratives. The tree lockets will serve as portals to hidden worlds, prompting individuals to reflect on their connection to the natural environment and the stories that remain concealed within. By combining elements of craftsmanship, photography, and historical aesthetics, I hope to create a truly captivating and immersive experience for all those who encounter the lockets.