Mystic Vibrations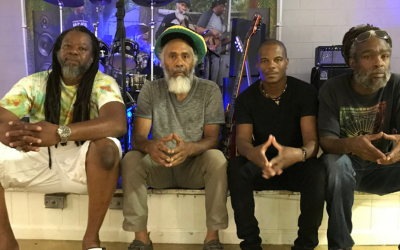 The deep roots of Mystic Vibrations began in Little London, Westmoreland, Jamaica, and spread to the US in 1992 by Ric Williams. Credited to our name are two self-released studio albums, People Get Ready and Busy Street, and one live recording, Live In Finlay Park.
The band is a four-piece rhythm section held by exceptionally talented musicians: Dion "Caution" Samuel (Drums), George "Raheem" Johnson (Bass), Marcus "Marky"' Ruby (Keyboards and Backing Vocals), and Ric Williams (Guitar and Lead Vocals). The band has been blessed by establishing a large fan base that has steadily grown over the years. Our music speaks of love, unity, and peace amongst all humanity, not forgetting the trials and tribulations of oppressed peoples. Mystic Vibrations' first recording, People Get Ready (1993), features songs such as "Mi Woman," whose upbeat tempo is topped with the praises of Ital (natural) living and womanly support. The album's "People Get Ready" title track calls for physical, spiritual, and mental repatriation. Our second album, Busy Street (1999), contains hard-hitting tracks such as "Busy Street" and "Babylon System," which aim to raise awareness of the realities created by capitalist regimes. "Still On My Mind" is a Love ballad that reveals an inner strength that surpasses the physical expectations of intimacy. Busy Street was later remixed in 2003, with a dub version of the title track "Busy Street" added ("Street Dub"). A third album, Live In Finlay Park (2002), features old and new tracks from prior and upcoming albums.
Mystic Vibrations is now and forever working on fresh material and collaborating musical energy with our brothers and sisters worldwide.
Wells Fargo Plaza Stage
Saturday Sept. 23
12 pm
Upcoming Events