Miriam Robinson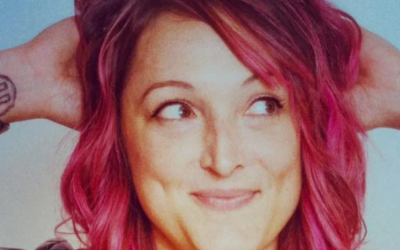 Miriam Robinson is a conceptual artist, painter, and metal worker. She lives and works in Atlanta, Georgia.
Working across multiple disciplines, Miriam Robinson works with the mission of using art to inspire hope and possibility across the globe. Predominantly auto-biographical in nature, Miriam's work expresses personal narratives involving relatable human experiences and current social issues in approachable ways.
In 2017, Charles Gaines published "Interview with Kerry James Marshall," where Marshall described using an "oblique" approach to social topics in art, so as viewers can remain open to receive the content. This is the kind of approach Miriam seeks to use in her own work. Using experimental methods, often-humorous abstraction, and deep insight, this self-taught artist uses her past to connect with her audience over similar feelings and sensations. Although they come from micro- life moments, Miriam works to connect these isolated incidences of her personal experiences with larger social patterns and macro- issues that many people can relate to in their own ways. 
Repurposing found objects for assemblages, turning trash into usable sculptural material, and employing unconventional methods like painting with a leaf-blower, Miriam's work aims to meet people where they are. There are a lot of ways to make art approachable without removing all controversial content and depth. Sometimes even the materials and processes themselves can speak to a greater meaning. 
In 1971 Linda Nochlin published "Why Have There Been No Great Women Artists," declaring that:
"The insistence upon a modest, proficient, self-demeaning level of amateurism--- the looking upon art, like needlework or crocheting, as a suitable "accomplishment" for the well-brought-up young woman--- militated, and today still militates, against any real accomplishment on the part of women."
It is this type of preconceived notion, putting crochet into the realm of meaningless and minimalized domestic handicrafts (this and a prior apprenticeship with Jin Choi of Choi and Shine Architects working on her amazingly delicate large-scale crochet installations), that has drawn Miriam to seek out crochet as a process for producing monumentally-sized versions of crochet designs originally intended as miniatures. In many ways, this reflects Miriam's desire to upturn gender stereotypes --- crafting metalwork as a support structure for crochet works-- and to imagine a world where instead of women experiencing constant pressure to be small/smaller/the smallest in body and in the world at large, what would it be like for women to be BIG-- to grow and expand and take up space?
Miriam often uses plants as an allegory for the female experience in space, for this reason, signifying growth and expansion beyond the domestic sphere and into an influential and monumental presence in the world. Through using allegories such as plants and processes such as crochet to broach issues of larger social significance, Miriam takes an "oblique" approach. 
Miriam's practice is informed by a background in public art production, having assisted artists and designers such as Italian street artist "Moneyless," Christopher Derek Bruno, Tristan Al-Haddad + Formations Studio, DEX, People of Resource, Choi and Shine Architects, William Massey, Corrina Sephora, Hopare, and more. She attended Atlanta Technical College in 2019, getting her welding certification, and will complete her B.A. in Studio Art from Georgia State in 2021.