Lorena Guillén Tango Ensemble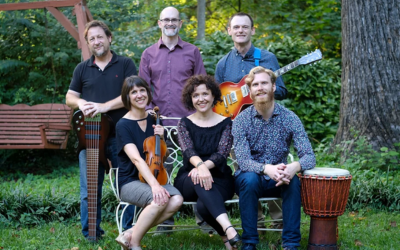 The award-winning sextet Lorena Guillén Tango Ensemble brings to the Charlotte International Arts Festival their unique tango-fusion pan-Latino with a program made of their own original songs and innovative arrangements of tango classics.
With its mesmerizing style and sound, the Lorena Guillén Tango Ensemble has captivated audiences with soulful arrangements of Argentine tango standards and original compositions that create a dynamic tango and pan-Latin fusion since 2015. The musicians in the group each have rich and extensive experience in Argentine tango, jazz, classical and contemporary music, and other world and popular music styles, all of which can be heard on their two albums, Exótica Flor (2023) and The Other Side of My Heart (2018), both available on all streaming platforms.
"The Not Your Average Folk Contest " Grand Prize Winner-2021" and "World Music" category winners of NC Museum of Art 2021, the Lorena Guillén Tango Ensemble has been featured on TV performances for NC PBS channel and Fox8News as well as live radio programs such as WUNC's "The State of Things" with Frank Stasio (NPR affiliate in Chapel Hill, NC), KUNM's "Corazón Tanguero" with Cristina Baccin (NPR affiliate in Albuquerque, NM), WFDD "Triad Arts," "Musicaldo" (KGLP 91.7, Gallup, NM), and Radio DAMus (Buenos Aires, Argentina).
Based in North Carolina, the group has been committed to collaborations and concerts with some of the Triangle and Triad "milongas" and tango-dance organizations: "Durham-Tango" and "Alma-Tango" (WS), with which it has shared the stage on many concerts, festivals, and workshops. There has been also a continuous community engagement with Latino organizations of the region, such as Casa Azul of Greensboro and the Hispanic League of Winston Salem. The Other Side of My Heart project reflects that commitment; an oral-history musical piece based on interviews with six Latina immigrants to NC developed by Lorena Guillén (lyricist/vocalist) and Alejandro Rutty (composer/bass player).
Over the years, the ensemble has presented its music in national and international stages: Kleinhans Music Hall and the Calumet Arts Café in Buffalo (NY), MusicBox Theater and Folk Research Center (Saint Lucia, West Indies), Frick Museum Summer Concerts (PA), Center Stage Series at the Sangre de Cristo Auditorium (CO), Winston-Salem's FIESTA Festival, Hispanic League's "Colorful Sounds in Concert" and Music Carolina SummerFest, Durham's Mallarmé Chamber Players, Greensboro's NC Folk Festival, Triad Stage's UpStage Cabaret and the Music For-A-Great-Space series, Blowing Rock Art & History Museum Summer Concert Series, Western Piedmont Symphony Concert Series, and Los Angeles' Alvas Showroom, LA Harbor College and Crafton College.
Upcoming Events