La Casa de la Cultura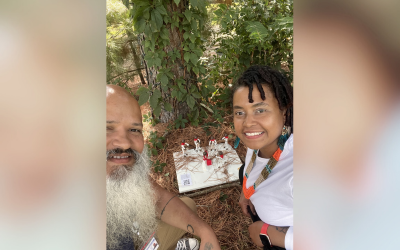 At La Casa de la Cultura we have the purpose of promoting and strengthening pride in our roots, traditions and ancestry, everything that defines us as individuals of a particular region or country. The doors are open so that any culture, tradition or customs are promoted and that it is known where we come from and those things that are part of our identity.
Artwork by Milagros Ugueto is Afro-Indigenous from Venezuela, She is a teacher by profession, since the year 1998 in the language teaching field. Milagros is a multidisciplinary artivist and performer, she runs two nonprofits la Casa de la Cultura and Patriotic traditions Celebrations Committee. She introduces herself with her heritage and roots while creating cultural spaces for interaction with people from different backgrounds.
100 Tiny Thing "Cumbe el Clavo"
In this exhibit, I plan to display a scene of Afro Venezuelan performers, dancing and playing at the rhythm of the Afro Venezuelan drums, showing similarities and differences from other communities from the African diaspora in the world.