Je'wel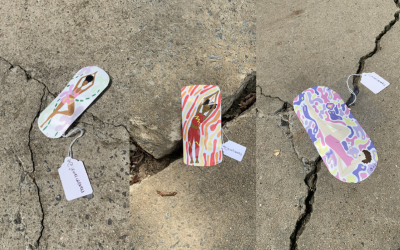 Kayla Je'wel Lucas is a 23-year-old visual artist from Winston Salem. As a teenager in the South privy to systematic oppression and Black radicalism, she was passionate about artistically supporting the advancement of Black American people. In her drawing class at R J Reynolds in 2016, she learned stippling techniques to juxtapose a Black woman with a luscious afro and an oak tree. The simple drawing spoke volumes to the values of Black beauty and pride that Je'wel developed and revealed to her the power of her creative mind.
Finding herself obsessed with the Black female identity and form, she discovered her muse. During unrest ignited by the 2020 murder of George Floyd, she created "Working Woman", a response offering the perspectives and experiences of Black women at the time. This piece became the cover of B.O.S Magazine Vol. 6: Black Power/ Black Politics. It also won her numerous grants such as the Wake County U.A.C Grant and the Charlotte is Creative HUG Grant.
100 Tiny Thing "Relax and Repair"
My project "Relax and Repair" seeks to visually restore worn architecture and inspire festival goers to take a minute to center and replenish themselves. On each "bandaid" that covers weathered ground or building components, lies a calming image of a natural-haired Black woman in one of 10 "Shavasanas" or yoga poses that invoke a sense of peace and presence within any onlookers. The subjects of these 10 Relax and Repair bandaids represent those who may not be reflected in spaces that encourage rest and renewal, like that of yoga. While these installations serve as creative urban repair, they also serve as a reminder to create space for ourselves to simply be as we are.