Jenny Coombes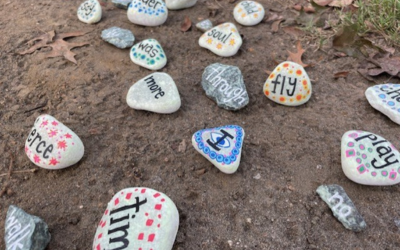 Jenny Coombes (maiden name, Theiller), was born 11/10/1979 in New Jersey. She earned a BFA in Illustration (summa cum laude) from Syracuse University in 2002, and a Master of Arts in Teaching from Maine College of Art in 2013. After living in Maine from 2003-2019, she relocated to Charlotte. Jenny has worked as a graphic designer, illustrator, cosmetologist, and has taught high school visual art in both Maine and North Carolina since 2013. She is currently an art teacher at Myers Park High School. 
Jenny creates 2D dream-like images in media, such as watercolor, gouache, acrylic, pen, collage, or mixed media. She also enjoys working digitally, and her artwork often blends traditional and digital processes. Some of her work centers around themes of grief & loss, spirituality, femininity, identity, beauty- and explores appropriation of images and symbols from both religious and pagan iconography.
100 Tiny Thing "The Weight of Words"
My idea is to create an interactive installation, similar to "Magnetic Poetry", but to do it using smooth river rocks that are painted with different words and placed in a location, (perhaps tucked away in a flower bed), where people can arrange to create poems or messages. My hope is that by using whole words instead of individual letters, I can control the word bank and have it include fun, uplifting, and/or positive content. I would also paint the rocks with color and other design elements that would give them a distinct, cohesive look. In order to help the rocks stand out at night, they could be painted with a base of glow-in-the-dark acrylic paint.