JStory Art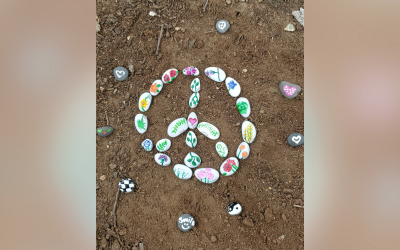 In a world that seems tubulent and upside down a lot to me, my artworks express a full range of human emotion from my unique perspective as a person who battles severe PTSD and CPTSD due to trauma and loss, and as a fibromyalgia warrior. I believe love and humor are the most beautiful and healing expressions of all and many works communicate those feelings.
A graduate of Queens University of Charlotte, and accomplished local artist; I enjoy painting and pretty much all craft mediums. I create what inspires me or grabs my interest and expresses my feelings and emotions.
I enjoy inspiring and uplifting others with bright colors and whimsical themes frequently. My goal is to bring joy while I inhabit this planet as much as I am able.
100 Tiny Thing "Inspiration Rocks"
I will paint as many rocks as I can for anyone who needs encouragement. Some may be silly or fun and some will have inspiration quotes not connected to religion. Life is hard and sometimes you just need a little kindness and encouragement to keep going. The idea behind these rocks comes from my previous experience painting trading cards for a small business whose goal is to enrich lives and uplift women. Many women reached out after they received their trading cards to express how my use of colors and uplifting words or silly phrases brightened their day.