Ginna Nebrig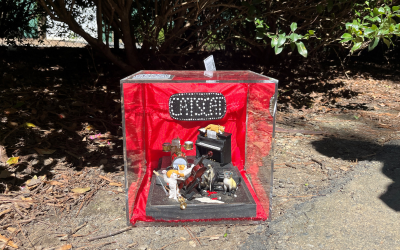 Hi, my name is Ginna Nebrig! I am a 17-year-old artist in Charlotte, North Carolina and a rising senior at Northwest School of the Arts. My mediums of choice are acrylic, oil, and colored pencil. I enjoy creating portraits and projects that express my deeper thoughts and feelings as an adolescent and exploring child-like themes of wonder and curiosity.
100 Tiny Thing "Street Cat 'Scat'"
A group of small cats taking part in a jazz street performance complete with different cat breeds, a variety of small instruments, and a QR code to a jazz playlist for viewers to immerse themselves in the "cat scat" performance.