Elizabeth Sickerman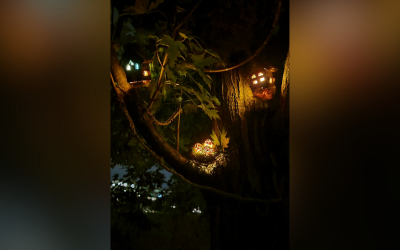 Elizabeth is a theatre artist, instructor, and tour guide in uptown Charlotte. While most of her work is performance based, she embraces this opportunity to explore visual storytelling through 100 Tiny Things. After all, oral traditions shape and are shaped by the landscapes around them.
100 Tiny Thing "Baba Yaga's Homes Come Home To Roost"
Inspired by the folkloric bird-legged hut of Baba Yaga, my tiny sculpture shows two homes who have nested here in Charlotte. The small, wooden structures sit in on wire bird-legs on a low branch peering down at passersby. There are tiny rope bridges strung from branch to branch around them (for when Baba Yaga is tired of riding her mortar). The nest sits between them. When audience members back up, three luminous eggs can be scene inside. The piece reflects how these characters from Eastern European folklore (themselves literally homes) have found a home here in Charlotte. In doing so, they bring whimsy to the urban landscape via the familiar and nostalgic act of craning one's neck to look into a birds nest.