Don Soledad Group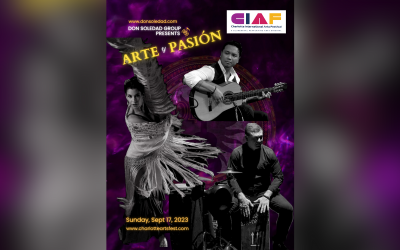 Don Soledad presents "Arte y Pasíon" (Art and Passion) – an evening of flamenco! "Arte y Pasíon" features original compositions from Soledad's albums, compositions by flamenco guitar maestros as well as other surprises. Join us on a journey to Southern Spain and beyond.
Guitarist and recording artist Don Soledad has been a mainstay in the US and Florida talent pool since his move from the San Francisco Bay Area. Upon his arrival, Don has released two original albums and more recently, a 3 song EP in 2020. His dedication to the art of flamenco guitar started under the tutelage of flamenco guitar maestros living in the US, as well as in Andalucia, Spain. Performance highlights include; opening for Jazz guitar legend Larry Coryell, stints at the Versace Mansion in South Beach and performing for Gloria Estefan's private parties as well as being the house band for 5 years at the Estefan's resort Costa d'Este in Vero Beach.
Laura Pirela is a Venezuelan architect, dancer, and choreographer. She has more than 30 years of flamenco training and dance studies in Spain Academies (Amor De Dios), Jerez de la Frontera, and in Venezuela by hands of great figures such as María Magdalena, La China, Domingo Ortega, and many others.
Justin Steger (percussionist), is a Florida native and UCF alumnus. Justin is also the main percussionist for Flamenco del Sol Orlando, as part of many productions since 2015. He also performs in the Central Florida area on vibraphone with his Jazz trio and annually in the field of orchestral percussion with the Florida Lakes Symphony Orchestra as well as the Bach Festival Society of Winter Park.
Upcoming Events