Cindi Caddell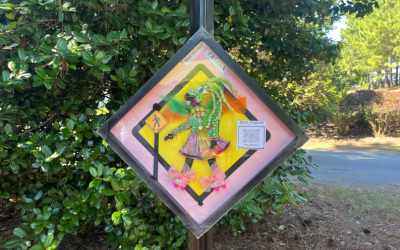 Cindi Norris Caddell's abstract paintings begin with a commitment to color and technique. As the colors blend and move across the canvas, manipulation yields to surrender and surrender yields to joyful surprise as the painting reveals itself.  Cindi has been practicing abstract painting since mid-2022.  Her mission statement is to "Nurture joy through thoughtful acts of creation." Collaborations on painting for private homes and businesses along with gifted and donated artwork have fulfilled that mission for Cindi, her clients and artwork recipients.
Cindi is a Charlotte native of 65 years. Expanding her creative repertoire to include a "Tiny Things" creation in Charlotte's second annual CIAF pays respect to Cindi's deep Charlotte roots and the city's visionary commitment to celebrating the arts on an international level.
100 Tiny Thing "Walk This Way"
WALK THIS WAY takes the Pedestrian Walkway Sign from utilitarian to captivating. The ordinary sign's "Pedestrian" Pedestrian is elevated to an effervescent, magical character that beckons viewers to absorb every tiny detail of the "Whimsical" Pedestrian's unique personality. Each "Whimsical" Pedestrian will highlight one of the arts and/or activities celebrated by the CIAF - artists, dancers, musicians, diners, etc.